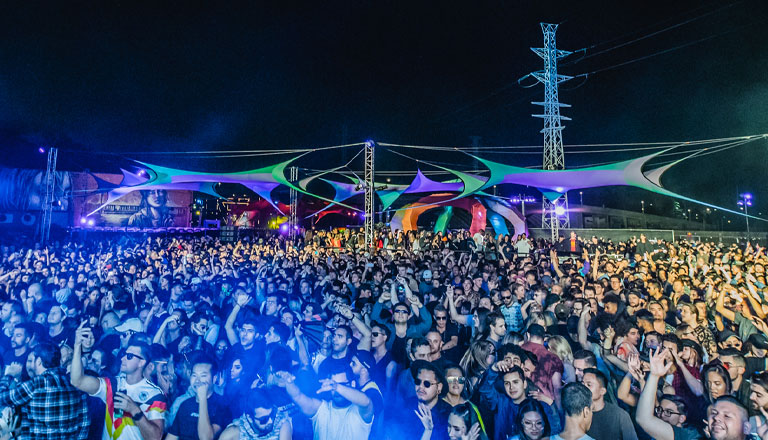 Guide FAQ
What time does the event start & end each day?

Show Times: 2pm–11pm daily
Box Office/Will Call opens at 1pm each day.

Can I enter anytime?

As long as you are holding a ticket that has not yet been scanned that day, you may enter any time during the event. Ins & outs are not allowed.
Will set times get posted in advance?

Yes. During the days leading up to the festival, set times will be posted via this site, our social media sites, and email updates (sign up for emails at the bottom of this page). Note: The lineup is subject to change.
Can I see a festival map ahead of time?

Yes. Maps showing stage locations, food, bathrooms, etc. will be available prior to the event on this site and/or our social channels.
Where are the closest airports?

Burbank Airport (BUR): 15 miles from venue
Los Angeles International Airport (LAX): 20 miles from venue
Is re-entry allowed?

No, ins-and-outs are not allowed.
What is the camera policy?

Professional photographers must obtain a photo pass using our press submission form. Do not email your request. Photo passes are not required for standard cameras that do not have detachable lenses or handheld video devices under 6″. Professional video cameras are not permitted.
What can I bring with me?

See our complete list of Acceptable and Prohibited Items.
Will there be a lost & found?

Lost & Found services will be available inside the venue during show hours. Exterior Lost & Found hours: TBA

Following the event, all phones, wallets, IDs, passports, credit cards, prescription glasses, and tech items (such as cameras or portable chargers) will be held at an off-site location. In-person inquires at Insomniac HQ will not be accepted under any circumstances.
Can I hang posters or hand out flyers?

Do not hang posters or hand out flyers inside the festival or in the surrounding neighborhood. Anyone violating this policy will be banned from promoting at our events.
Does the venue have cash machines?

Yes, ATMs will be available on the venue grounds.
Can I sleep in my car or park overnight?

Sleeping in cars in the festival parking is not permitted for anyone. DO NOT leave your car in the parking lot during non-festival hours, or it will be towed at your expense. 
I'm under 21. Can I attend with a legal guardian?

No one under the age of 21 will be allowed into the venue, with or without a guardian.
What kind of ID do I need?

You must present identification to enter the festival and/or buy alcohol. See the complete list of acceptable and unacceptable forms of ID.
What if my ID is lost or expired?

Security will accept expired ID cards ONLY if accompanied by DMV renewal documentation. If your ID was lost or stolen, you must bring a government-issued interim license or passport.
Can I use a consular ID or foreign driver's license?

Consular IDs are not considered acceptable identification. Foreign government-issued driver's licenses are acceptable with a photocopy of a passport. A foreign government-issued passport will work on its own.
Related